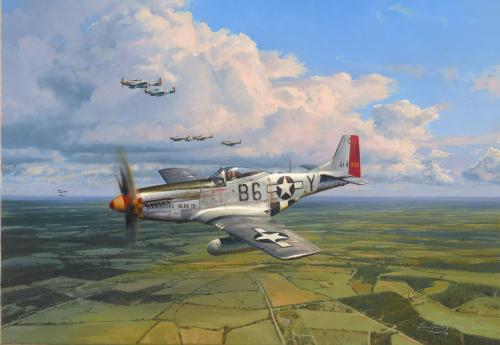 American Eagles – Unframed
One of World War Two's best known P-51 Mustangs, Glamorous Glen III, flown by one of the aviation's best known pilots, Chuck Yeager, together with pilots of the 357th Fighter Group head out of Leiston in Suffolk, on escort duty to an 8th Air Force bombing mission to Germany, October 1944.
30 1/4 x 24
This outstanding new edition – the companion to Air Superiority – is signed by prominent pilots of the 357th Fighter Group including, for the first time ever on a Robert Taylor edition, one of the most famous aviators in history – General Chuck Yeager. Matching numbers to the previous release will be available and together they form an outstanding collection of signatures from this famous unit.
THE EAGLES EDITION
Joining artist Robert Taylor, each print is signed by THREE highly prominent pilots from the 357th Fighter Group:
Major James McLane
Captain Harvey Mace
Captain Charles E. Weaver