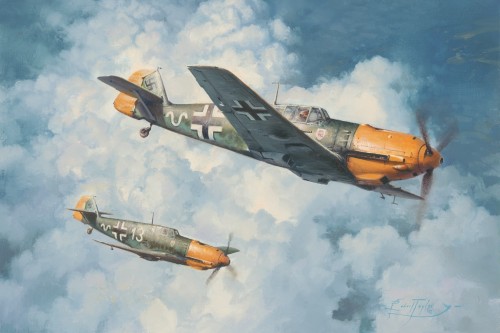 Eye of the Sun – Unframed
A PORTFOLIO TO COMMEMORATE THE 75th ANNIVERSARY OF THE BATTLE OF BRITAIN 1940 – 2015
You can feel the tension in this evocative painting as Messerschmitt Bf109s from 7./JG2 Richthofen head out on a long-range fighter patrol in September 1940. With the sun behind them they hope to launch a surprise attack on unsuspecting RAF aircraft, however these enemy raiders will soon be intercepted by some of Fighter Command's most determined 'defenders of the realm'.
Overall size: 24 ½" wide x 18 ½" high
Many of the Luftwaffe's great names didn't survive the war, however three of the most iconic Aces that flew in the Battle of Britain have signed this outstanding release:
THE COLLECTORS & REMARQUE EDITIONS
These THREE signature editions are additionally signed by two of the most highly-respected Luftwaffe Pilots of the Battle of Britain:
Generalleutnant GÜNTHER RALL Knight's Cross with Oak Leaves & Swords
Flew Bf109s with III./JG52 during the Battle of Britain. By the end of the war he scored 275 victories making him the third highest-scoring Ace of all time.
Major HANS-EKKEHARD BOB Knight's Cross
Flew Bf109s with III./JG54 becoming one of the top Aces of the Battle of Britain with 14 victories. He finished the war with 60 victories.