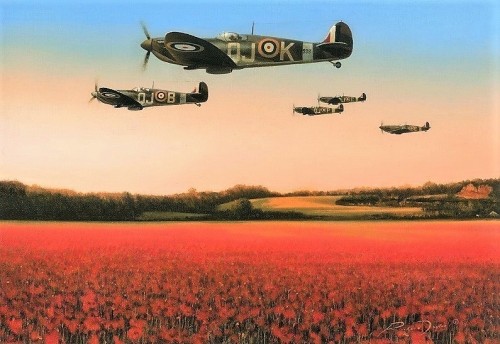 Fields of Glory
With the Battle of Britain reaching its climax, Mk.Ia Spitfires from 92 Squadron return to their new base at Biggin Hill in early September 1940. As if in tribute to fallen comrades, a bright swathe of second- flowering corn poppies greet their thunderous arrival.
Overall Print Size: 19¼" wide x 16¼" high
This superb cameo painting by Richard Taylor serves as a tribute to all those who fought for the Allied forces during WWII.
The Battle of Britain changed the course of the war in Europe and although the number of veterans who fought has sadly dwindled, it is a great honour that, along with the artist Richard Taylor, each print has been personally signed by three veterans who served during this crucial period:
Flying Officer KEN WILKINSON
Spitfire Pilot with 616 and 619 Sqns
Flight Lieutenant TERRY CLARK DFM AE
WOp/AG on Blenheims with 219 Sqn / 6 victories
Leading Aircraftsman BILL JONATHAN
Ground Crew with 32 Sqn on Hurricanes