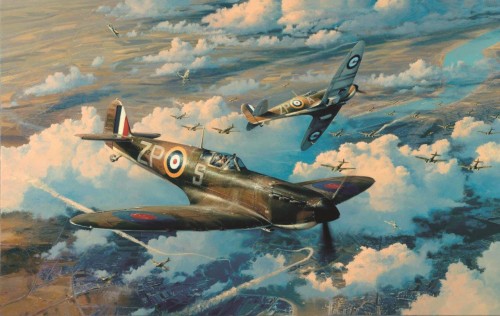 Height of the battle – The Giclee Studio Proof
COMMEMORATING THE 75th ANNIVERSARY OF THE BATTLE OF BRITAIN
Continuing his popular series of Giclée Studio Proofs on canvas, Robert Taylor portrays Squadron Leader 'Sailor' Malan DFC, Commanding Officer of 74 Squadron and one of the great Battle of Britain Aces, in his famous painting Height of the Battle. Having already made one diving attack into the force of Luftwaffe He111 bombers approaching London with their fighter escort, 'Sailor' peels his Spitfire over for a second attack. Another top Ace, Pilot Officer Harbourne Stephen DFC, is hard on his heels. Below them, typifying the scene as it was on the afternoon of Wednesday 11 September 1940, Mk.I Hurricanes from 17 and 56 Squadrons have already joined the fray.
This superb piece was originally released as a veteran signed limited edition print some years ago and is long sold out, so the Military Gallery is delighted that this wonderful Masterwork painting is now faithfully replicated on canvas using the latest high-definition Giclée technology.
Stretched Canvas Size: 38" wide x 24" high
Available individually, as matching-numbered pairs, or as a full set, with MAPLE LEAF SCRAMBLE and HURRICANE ATTACK whilst stocks allow.
Printed onto fine canvas, each carefully crafted Studio Proof is signed by Robert Taylor, stamped on the back, hand-numbered and issued with a Certificate of Authenticity. Each canvas is released pre-stretched from the Military Gallery studio ready to simply drop into a frame of your choice.