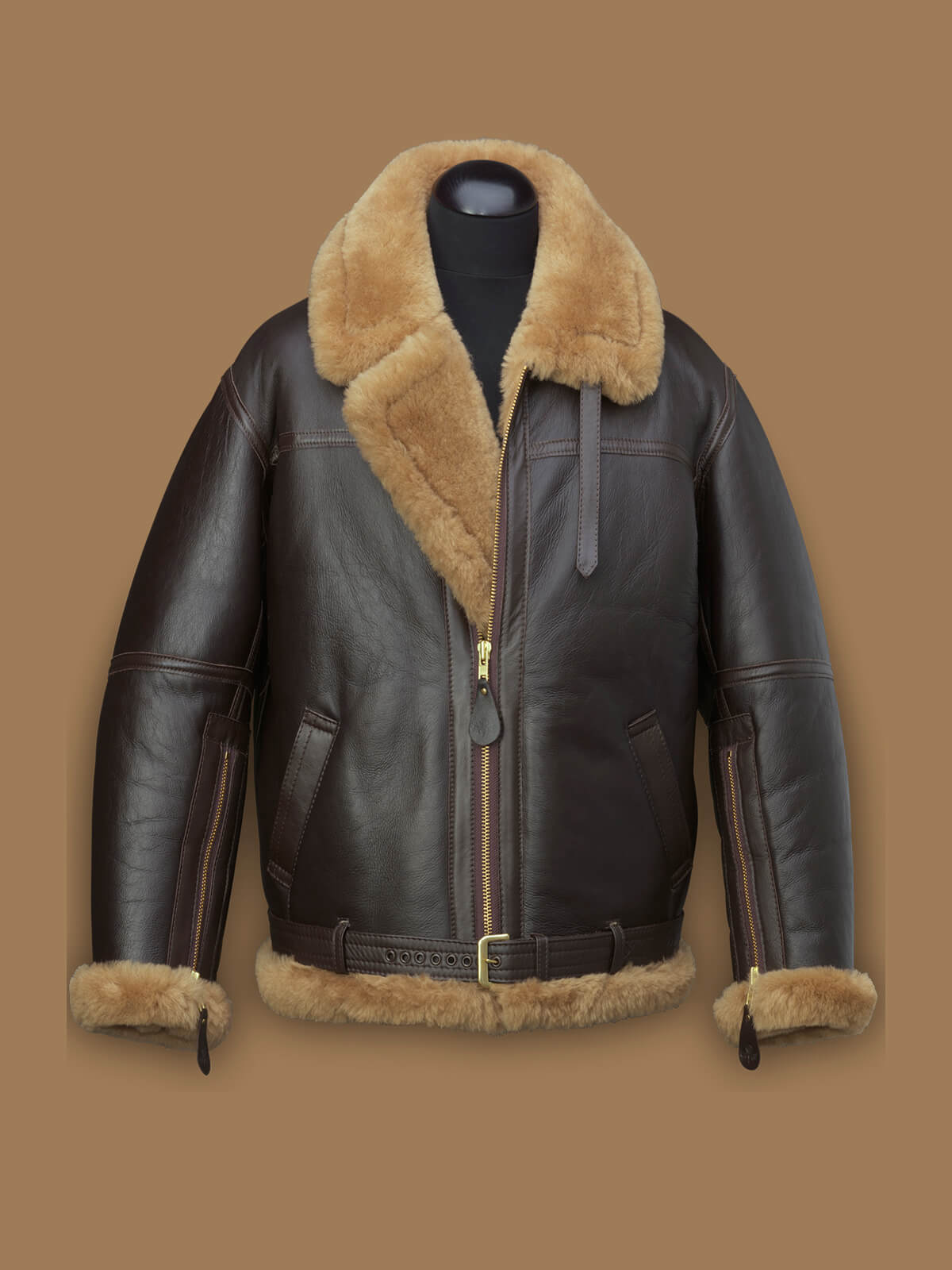 Original Irvin Sheepskin Flying Jacket
There is only one true Irvin and this is it. Aviation Leathercraft (part of Moto-Lita Ltd) own the Irvin trademark and manufacture this genuine jacket here in the U.K. An Irvin label within each jacket confirms its authenticity.
When those of us that were once small boys ran around, arms extended, making aircraft engine noises, this is the jacket we would have worn. In our mind's eye, this jacket was synonymous with heroic derring-do. If there is one item of apparel that sums up all that is best about the brave British tradition of mastery of the skies, this is it.
Of course, the Irvin Original Sheepskin Flying Jacket is practical: it's made from first-rate, hard-wearing materials and it's made with the same pedantic attention to detail demonstrated by its creator. It will last you virtually forever, but it's not just about practical stuff – the Irvin jacket is a legend, it's part of a story, it has its place in our history and as much as anything else owning a genuine Irvin just feels right. You put it on and there's no question that you're part of something special.
This jacket includes the exclusive Irvin label.
Please note: There is a waiting list for the Original Irvin Flying Jacket, Lightweight Irvin, Monza and B3 flying jackets.
Product Specification
Sheepskin
Top quality, supple sheepskin with long rugged wool, prepared especially for Aviation Leathercraft, for the production of Irvin flying jackets.
Colour
Brown sheepskin, with brown leather bindings. Inside colour is "Warm Honey" (sheepskin is a natural material and some colour variations are to be expected).
Seams
All seams are overlock stitched and bound with double stitched soft leather.
Pockets
Leslie Irvin's original design did not include pockets. We can supply you a jacket to the original specification, with no pockets, or with two side entry pockets as shown. Demand is such that we fit pockets as standard, if you do not want pockets simply let us know when you place your order.
Zips
Heavy-duty brass.
Buckle
The buckle that closes the waist belt is made from cast brass and bears the Irvin name.
Ventilation
Enameled brass under arm ventilators are fitted.
Sizes
36″ – 52″ English (91cm – 132cm) chest with the option of regular or long fit.
Ladies sizes 8, 10, 12, 14, 16 and 18 with option of regular or long fit.
Identification/Authentication
This classic flying jacket is the real thing. Each jacket bears an authentic Irvin, woven label. This unique label is sewn into each jacket as your assurance that the jacket is a genuine Irvin Original Flying Jacket from Aviation Leathercraft.
Important note: Despite the original Irvin Original flying jacket not having pockets, in line with the majority of orders we receive we make Irvin flying jackets with pockets, unless we are specifically asked to do otherwise. If you want your Irvin jacket to be made without pockets please specify your wishes in the comments box on the "checkout" page.
Photographic colour/material representation is illustrative. Colour and material can vary slightly.