THE PILOTS
At Aero Legends we pride ourselves on the roster of highly skilled and experienced pilots flying our aircraft. Our pilots have been carefully selected based on their unparalleled experience on the aircraft we operate to make your flying experience as exciting, enjoyable and safe as possible.
Across our roster of world renowned pilots we have over 3,000 hours in Spitfires and a total of over 60,000 hours in the skies – that's almost 7 years in the air!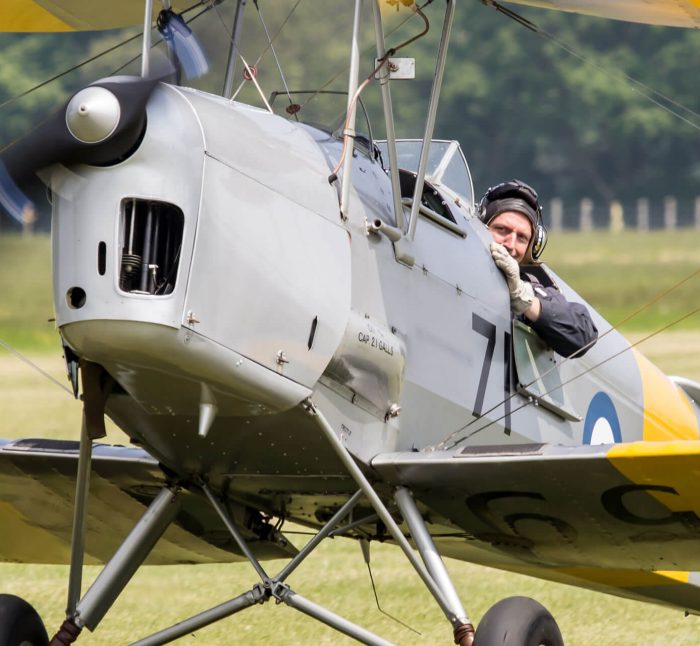 Gavin Ashdown
Gavin has been flying for over 30 years with over 13000 hours in many different types of aircraft. With a passion for aviation at all levels, from basic biplanes to a passenger jet, Gavin has a particular interest in instructing, and is always keen to share the experience of flight with passengers and students alike.
Having spent over 20 years flying for a major European flag carrier Gavin is still to be seen teaching in many areas of flying, from ab initio to aerobatics, and holds a display authorisation for both aerobatics and formation flying.
Having in recent times converted on to the Embraer 190 aircraft, with its highly complex mesh of computer technology and aircraft systems, Gavin describes this as the antithesis to the "stick and rudder" of the open cockpit Tiger Moth in which he has nearly 1000 hours.
Currently Gavin is quite happy enjoying the mix of professional commercial flying with the more "grass roots" forms of aviating, especially in some of the older and historic aeroplanes that it is a privilege to be involved with.
FLT LT CHARLIE BROWN
Flt Lt Charlie Brown joined the RAF in 1981 and in his 30 year flying career as an RAF pilot has flown the Tornado GR1, Jet Provost, Chipmunk, Bulldog, Tucano, Firefly and Tutor. Charlie is currently stationed at RAF Cranwell in Lincolnshire and is a member of the Central Flying School Examining Wing.
In his spare time he is also the Chief Flying Instructor at the RAF Cranwell Flying Club. In 2014 Charlie reached 1000 flying hours in Spitfires, which he described as 'a real privilege'. For many years he has been a regular participant at Duxford air shows. He is a highly experienced Spitfire display pilot.
Charlie is now the Head of Training with Aero Legends.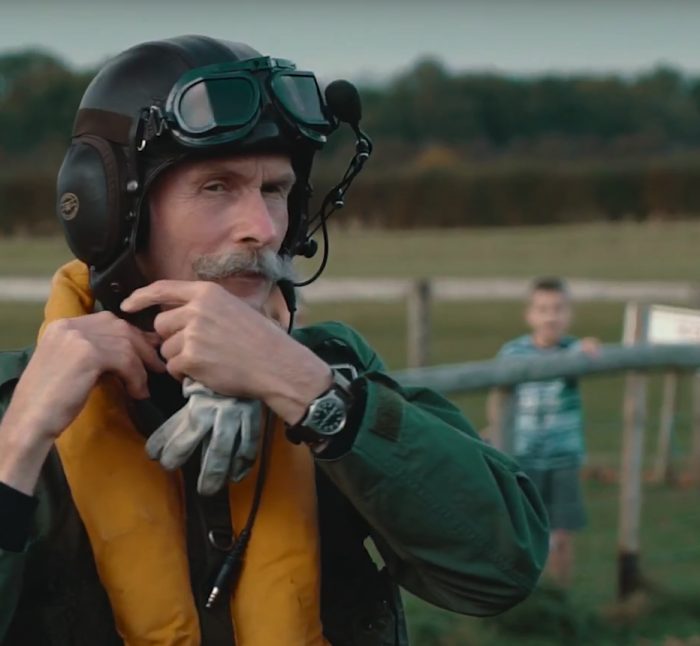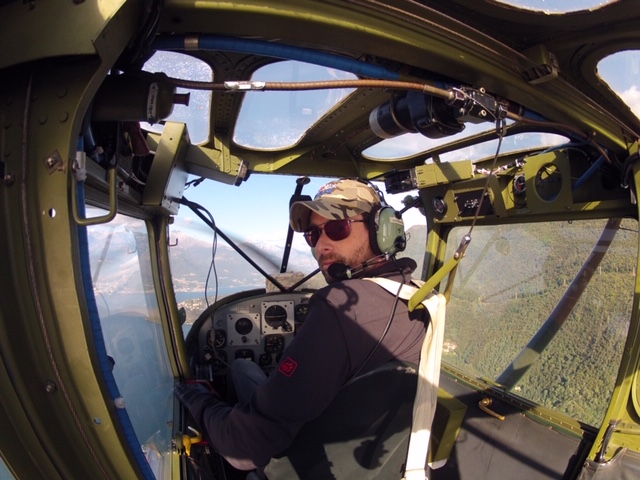 JOHN O'CONNELL
John took his first flying lesson at the ripe old age of eleven and gained his PPL before he had his driving licence. Since gaining his ATPL almost twenty years ago, John has amassed thousands of flying hours.
John loves all aspects of aviation however he is passionate about historic aircraft and he has over 2,000 hours of tail wheel experience, the majority of which is on vintage types. John has flown multiple types ranging from the Tiger Moth, Harvard, Yak 11, L-19 Bird Dog, Chipmunk, DHC-2T Beaver and various sea planes right up to modern jets. He has extensive experience operating from short unprepared airstrips in aircraft such as the BN-2B Islander, BN-2A MkIII Trislander, Cessna C208 Caravan and DHC-2T Beaver. In the past, John has displayed at high profile public events and air shows throughout the UK as pilot for RAF Falcons parachute display team.
When not Flying for Aero Legends, John is a Gulfstream G450 Skipper for a UK based commercial BizJet operator. John says that when he is flying for Aero Legends, "he's in his aviation happy place
SQR LDR ANDY 'MILLI' MILLIKIN
Squadron Leader Andy Millikin joined the RAF in 1995 having wanted to fly all his life.  After completing flying training, he flew Jaguars for 5 years before transferring to the Typhoon in 2005 and accruing over 1000 hours on each type. He's flown operationally over Iraq and Libya as well as in exercises around the globe.
Milli is an instructor who has taught people to fly aircraft as diverse as the Chipmunk, Harvard, Hurricane, Spitfire, Jaguar and Typhoon. He joined the Battle of Britain Memorial Flight in 2011 and is currently the Officer Commanding.  Flying the Spitfire has been the pinnacle of his career to date and he is delighted to be joining Aero Legends to continue that privilege.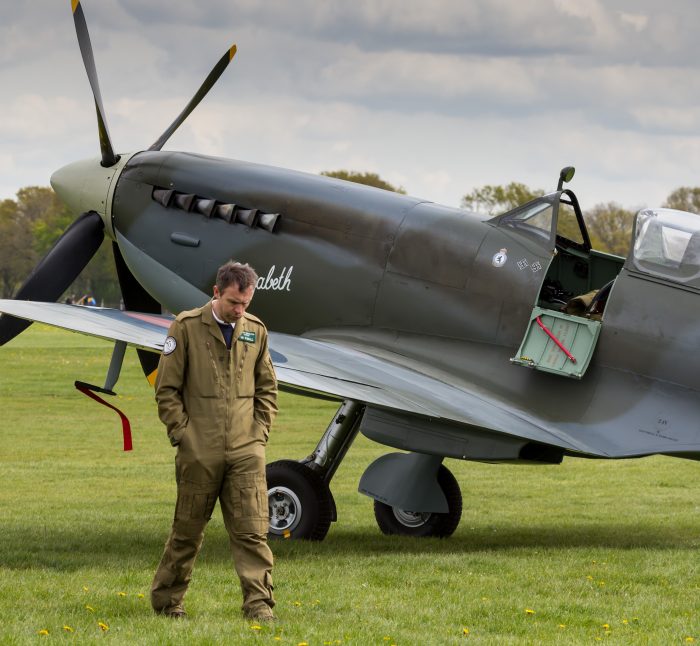 MARTIN 'MO' OVERALL
Martin Overall, known as Mo has been interested in aviation from a very early age, building and flying model aircraft and going on to gain his microlight licence in 1992 at the age of 17.
Mo's involvement in vintage types started in 1997 when he began working for Historic Flying, then based at Audley End.  He soon gained his A group licence and over the years gained experience on Chipmunk, Harvard and other types.  In 2014 a lifelong ambition was fulfilled when Mo soloed Spitfire MK IXT PV202 going on to gain a display authorisation 2 years later.
Mo has been involved in over 20 Spitfire restorations during his time with Historic Flying and we were delighted to have him as project manager for Aero Legends Spitfire MK IXT Elizabeth.  He says, "It  has been a pleasure to work with the Aero Legends team during the build of their MK IXT and to see the physical aircraft take shape. The research into her history has uncovered some interesting characters and stories. It has also been a great privilege to be able to fly Elizabeth and to take Keith Perkins up for his first experience in this awesome machine".
FLT LT ANTONY 'PARKY' PARKINSON
Flt Lt Antony Parkinson MBE, known as Parky, joined the RAF at the age of 18. He became the first pilot to gain 1000 hours flying the Euro Fighter Typhoon and has also flown over 1000 hours on the F4 Phantom and the Tornado F3 for which he was the display pilot in 2000 before joining the Red Arrows for the 2001 to 2004 seasons flying the Hawk.
Parky also flew the F16 for 3 years with the Royal Netherlands Air Force and has over 6500 flying hours in total. Parky has been flying with the Battle of Britain Memorial Flight since 2007 as the Operations Officer and one of the fighter pilots. Flt Lt Antony Parkinson was awarded an MBE in recognition for his work on the Typhoon and Battle of Britain Memorial Flight.
Parky is now the Main Pilot for all Spitfire Operations with Aero Legends.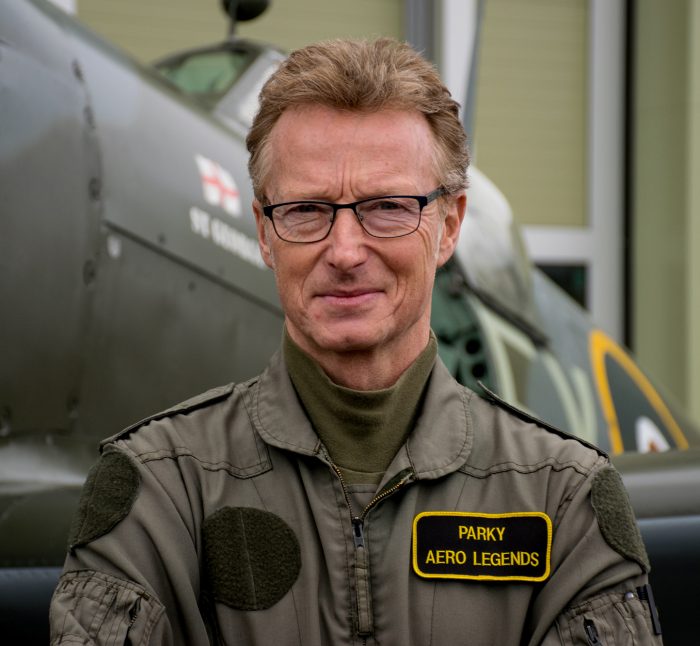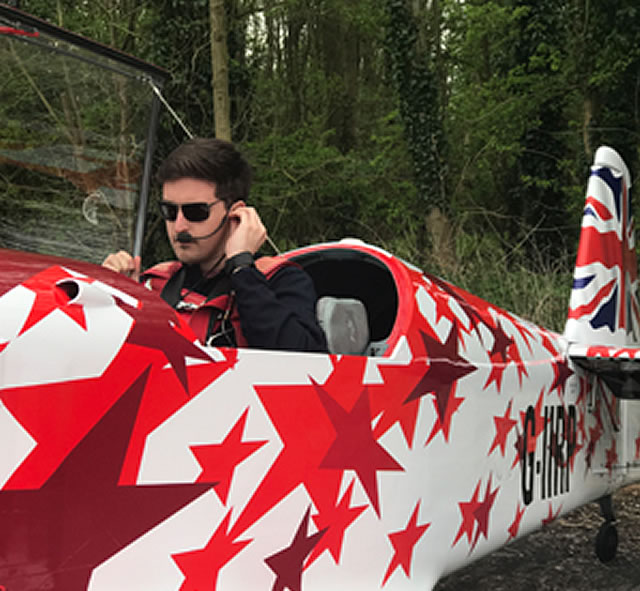 MICHAEL PICKIN
Michael started flying at a very young age being inspired by his father. Winning his first aerobatic competition at just fourteen years old, Michael went on to become the youngest person ever to be awarded a CAA Display Authorisation for display flying.
At the age of twenty three he became the youngest ever British Advanced National Aerobatic Champion and today is the youngest Unlimited Level aerobatic pilot in Europe, aged twenty six. Michael is still a very active display pilot and has performed all over the world as a solo display and as part of a formation aerobatic team.
Michael is equally passionate about vintage aircraft and flying warbirds, ever since doing his Private Pilots Licence on a Bucker Jungmann. "Flying for Aero Legends is a great way to share historic aircraft with the pubic and give them an experience they will never forget." Michael has flown over fifty different aircraft types ranging from gliders to airliners and is an active Commercial Pilot on the Boeing 757/767. Now flying with Aero Legends.
RICHARD WARD
Richard has flown 20,000 hours currently having gone solo on gliders at 16 and gained a PPL before he could drive at 17. He learnt to fly commercially on Bell 47 helicopters, having previously trained as an Air Traffic Controller and flew Super Pumas on the North Sea for 4 years before joining a major airline in the South East and he is now a training Captain on Boeing 787 Dreamliner flying to long haul destinations.
He has always had shares in Piper Cubs until  in 1995 when he bought a share in a Stampe bi-plane, G-BWEF and now flies with the Stampe Formation Team at airshows around the UK. Richard is a current serving RAF Volunteer reserve pilot flying Air Cadets at Boscombe Down on the RAF's Tutor trainer. He Thoroughly enjoys introducing the flying guests and their families to vintage aircraft with Aero Legends on the Tiger Moth, Jackaroo and Harvard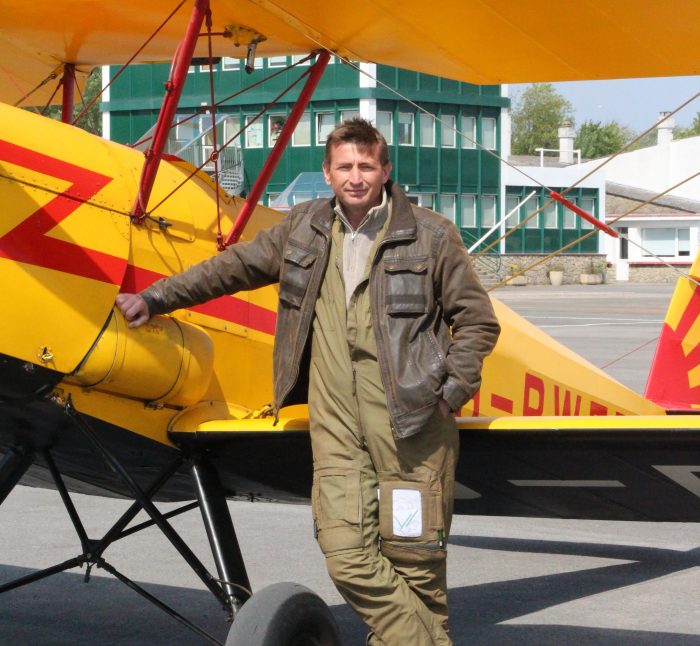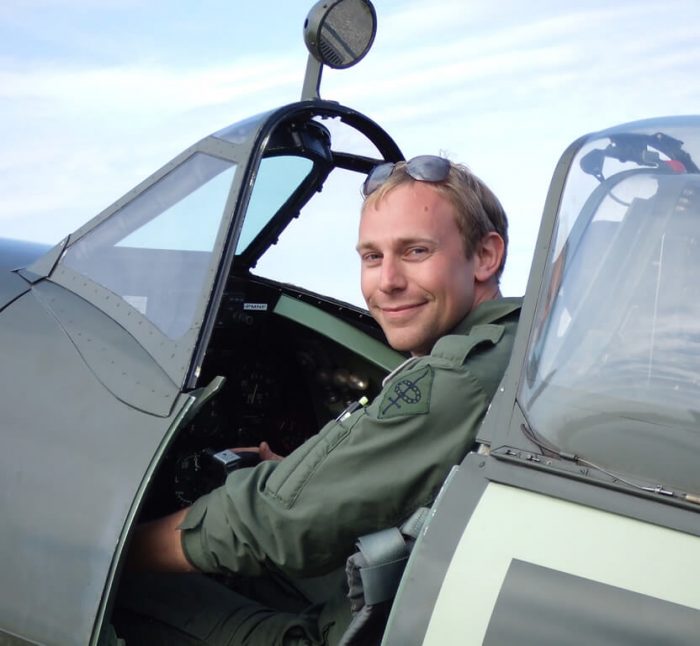 SAM WHATMOUGH
Sam has been fascinated with all things aviation since an early age having grown up close to the famous Battle of Britain fighter station – RAF Biggin Hill.  His grandfather flew Wellington Bombers during WWII and following in his footsteps Sam started learning to fly aged 15, went on to study Aeronautical Engineering at university then joined a major national airline as a pilot. He has flown Boeing 737, 777, 787 aircraft and is currently a Training Standardisation Captain on the the Airbus A320.
He is an active display pilot with a love of flying vintage aircraft, particularly the warbirds. He was part of Great Britain's Yak-52 World Aerobatic Championship team and raced the Formula 1 aircraft "Miss USA" at the National Championships in Reno. He has also had the honour of being chosen to fly Her Majesty the Queen and in the process set the world record for the longest ever commercial flight, flying non-stop between Perth in Western Australia and London. He has amassed over 13,000 hours flying experience in over 50 different types, his favourite of which is the Spitfire. "As an Englishman for it to be anything else would be treason!" he explained.
Sam says that he is excited to be flying for Aero Legends "Their diverse collection of historically significant aircraft, all of which are accessible to the public, make sharing the wonder of flight and the incredible history of our aircraft an extremely rewarding
experience".