Spitfire NH341 'Elizabeth's' Legendary Pilots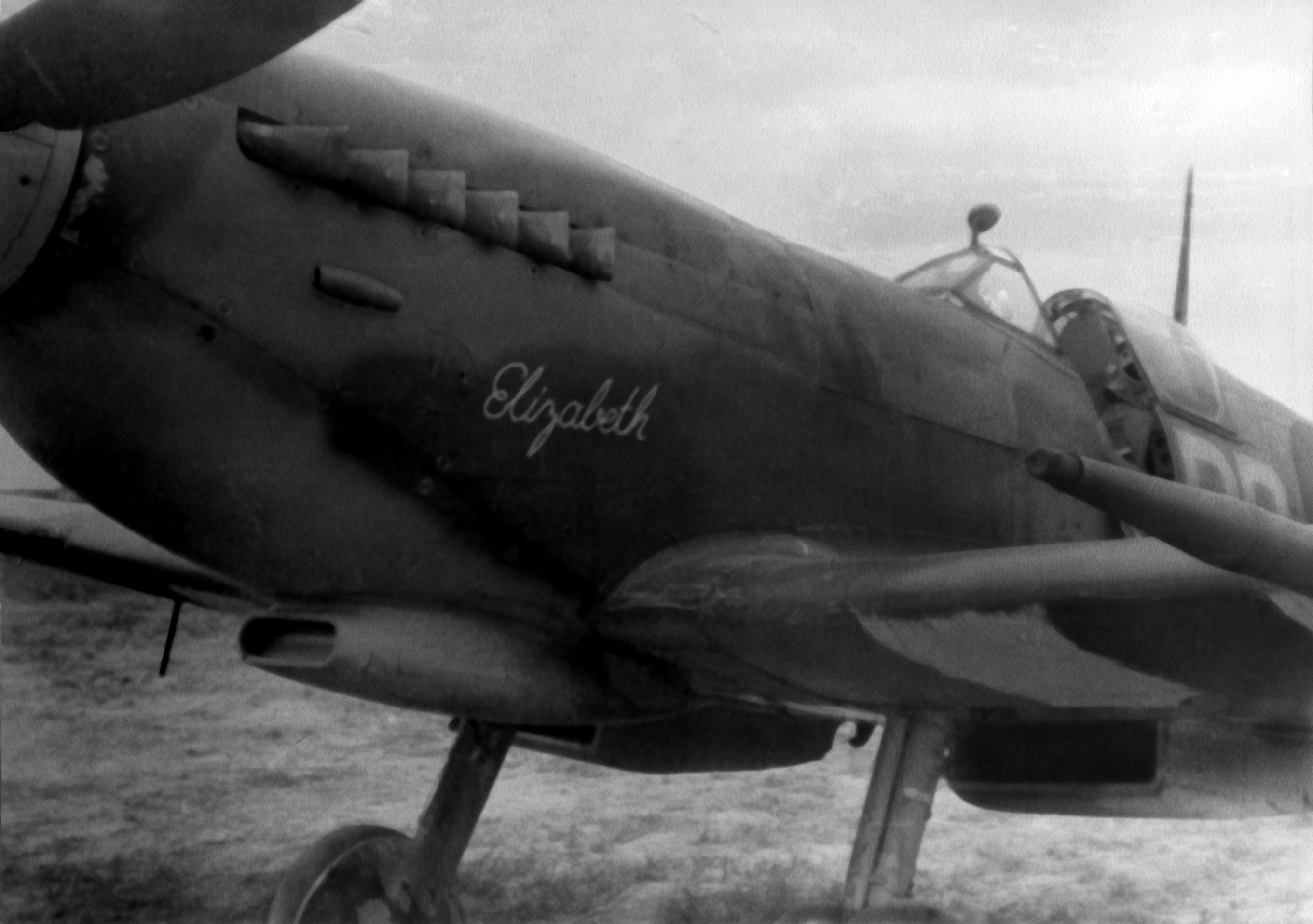 On 12 June 1944 our Spitfire NH341 was assigned to the Royal Canadian Air Force's No. 411 "Grizzly Bear" Squadron, part of 126 Wing of the Royal Air Force's 2nd Tactical Airforce (TAF).
From D-Day until the end of the War, 126 Wing destroyed 336 German aircraft- more than any other. These Canadian pilots were the 'real deal' and we are proud to share their story with our customers.
411 squadron were based at RAF Staplehurst, Kent for a few months in the summer of 1943.  They enjoyed our Kentish cider in large quantities such that their Wing Commander Dal Russell DFC commented that it was responsible for more damage to his pilots than the Germans!
There were nine 411 pilots who flew NH341 in her 27 operational sorties over France and all survived the war. One pilot Flt Lt T R 'Tommy' Wheler is still alive today in Canada.
Flt Lt A B 'Bruce' Whiteford
Bruce Whiteford first flew NH341 on 12 June and flew her more times than anyone else. The 'EO' and 'Elizabeth' painted on NH341 then (and today) were his wife's initials and name.
In NH341's first sortie his pilot log describes 'bags of flak and fire' whilst flying escort to 220 Lancaster bombers attacking Le Havre's port. Bruce was credited with damaging a Messerschmitt ME109 on 4 July.
Flt Lt H C 'Charlie' Trainor DSO DFC
Charlie Trainor was responsible for two air victories in NH341 on the 29 and 30 June.  Amazingly, these two victories were amongst eight aircraft he shot down in one week, qualifying him for 'ace' status. He was later promoted to Squadron Leader and became Commanding Officer of 401 Squadron.
Charlie was leading an armed reconnaissance patrol as part of Operation Market Garden when he developed engine trouble; 'he glided about 20 miles before he bailed out,' the diary entry for Sept. 19 reads. Charlie was captured and sent to a prisoner of war camp.
Flt Lt T R 'Tommy' Wheler DFC MBE
Surviving pilot Tommy flew NH341 on a reconnaissance mission on 24 June.  In 2015, he visited us and NH341's restoration, signing a panel which is within the Spitfire. Tommy claimed two Focke Wulf FW 190 victories along with shared damage to an ME109 and a FW190.  
On 7 August Tommy 'was hit by flak on an armed recce' and bailed out.  In what became known as 'Wheler's walk' he was captured but escaped from a truck before being recaptured.  He escaped again and was helped by a French farmer. British forces arrived on 26 August and he returned to service with 411.
Flt Lt R S 'Robert' Hyndman
Robert flew NH341 on a dive bombing mission which was disrupted by six FW190s.  The Canadian Government made him an official war artist in September 1944.  Today many of his war time paintings are on display in the Canadian War Museum, Ottawa.
W/O J S 'Jimmy' Jeffrey
Jimmy's fateful mission on 2nd July was to be NH341's 27th and last. He was attacked by an FW190 and with engine oil covering his windscreen bailed out near Orbec.
Jimmy was hidden from the Germans by farmers and the local Resistance.  He was taken to the Hotel de Ville, Orbec and given an identity card. On another occasion he was taken into a local town for a haircut and to buy cheese! He successfully returned to his unit in August.
Article by Nick Oram