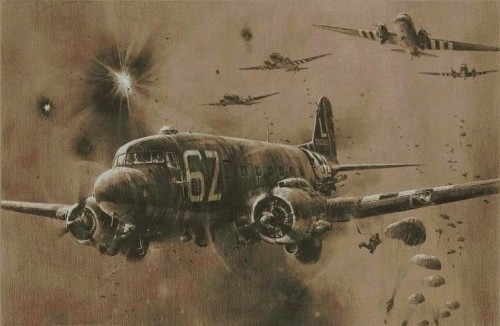 D-Day Drop 'Stick 21'
At 23.45 on the night of 5 June 1944, the 101st Airborne's most legendary unit of combat paratroopers – the notorious 'Filthy Thirteen' – jumped into France near the village of Sainte Mère Église, in the final hours before the D-Day landings.
Overall print size 26¾" wide x 20¼" high
They were the Screaming Eagles' most notorious unit, a small bunch of raw, tough, ruthless young men. Hard drinking and savage fighting – and that was only in training -with scant regard for authority. And if the reputation of this unique bunch of renegades within the ranks of the 101st was formidable, for the Germans it became one of sheer terror.
Officially they were the First Demolition Squadron, HQ Company, 506th PIR, 101st Airborne. Unofficially they were the 'Filthy Thirteen'.
Robert Taylor's classic drawing, part of his Graphite Collection, captures the moment on the night of 5 June 1944 when the 101st Airborne's legendary squad of elite paratroopers jump into battle in the vital hours before the D-Day sea-borne landings commence. The pilots of the 440th Troop Carrier Group struggle to keep their Dakotas level as deadly flak pummels the formation.
These prints in this new limited edition are signed by some of the Airborne Division's most respected veterans, including Jake McNiece, unofficial leader of 'The Filthy Thirteen', and James Megellas, the most highly decorated officer in the 82nd Airborne.
THE LIMITED EDITION
Each print in every edition is personally signed by two of the original 'Filthy Thirteen', together with artist Robert Taylor.
SGT JAKE 'McNASTY' McNIECE
The unofficial leader of the 'Filthy Thirteen', Jake McNiece was the inspiration for the 'Mohawk' haircuts and war paint that the men wore on D-Day. He survived four combat jumps during WWII.
PVT JACK 'HAWKEYE' WOMER
Joining the 'Filthy Thirteen' before D-Day he was the best shot in the unit. Separated on the D-Day drop he initially fought alongside the 501st PIR before being reunited with his company.