EVENTS
The Aero Legends airshows at Headcorn Aerodrome present choreographed displays featuring unique aircraft types rarely seen together in the UK skies. Our events will showcase what the Aero Legends fleet is capable of whilst enabling guests to book an exclusive range of flying experiences only available over these weekends.
Battle of Britain Outdoor Cinema
Friday 1st June 2018 - Saturday 2nd June 2018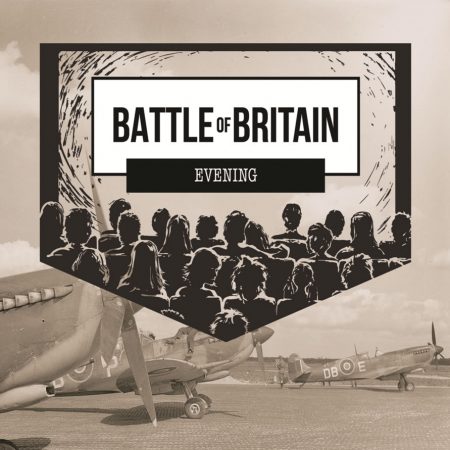 Enjoy a outdoor cinema screening of the classic Battle of Britain (1969) film come nightfall. Sit back and 'boogie woogie' to live music performances from the stylish duet 'The Nightingales'. Indulge with delicious Kentish food and locally produced beverages.
Aero Legends season premiere commences with a fabulous 1940's themed outdoor cinema evening and spectacular Spitfire display at sundown to commemorate the 78th anniversary of the Battle of Britain.
Think vintage photo booths, retro dress and impressive up-do's. This event is certainly not one to be missed!
Gates open from 18:45
End 23:45
Please bring comfortable seating.
Please come prepared for all weather events. This includes jumpers and blankets as it becomes cooler into the evening.
Please note, external food and drink will not be allowed on the event site.
There is no additional charge for the Outdoor Cinema Screening starting at 21:30
Once purchased, you will receive a confirmation email which you can print off and use as your ticket.
Ticket Prices
Under 16 years
£15.00
Senior
£20.00
Adult
£25.00
Aero Legends Battle of Britain Airshow
Saturday 30th June 2018 - Sunday 1st July 2018
The Battle of Britain Air Show with attractions for all the family which include flight experiences, a funfair and stalls. Between 2-5pm enjoy our Battle of Britain display featuring representative aircraft from the Battle of Britain era. Spitfires, Hurricanes and other aircraft of the period such as the Tiger Moth and Harvard T6 will also take part. This activity is courtesy of the fabulous Aero Legends.
Family ticket is 2 x adults and 2 x children
Online booking only available up to 12 noon Friday 7th July 2017
Ticket Prices
1 Day
Online
Weekend
Online
1 Day
Gate
Weekend
Gate
Infant

Under 4 Years

FREE
FREE
FREE
FREE
Child

(5 to 14 years)

£7.00
£9.00
£8.00
£12.00
Adult

(15 years to 59 years)

£12.00
£15.00
£15.00
£20.00
OAP

(60 years and over)

£9.00
£12.00
£12.00
£18.00
Family

(2 x adults, 2 x children)

£29.00
£35.00
£34.00
£40.00
Combined Ops Airshow
Saturday 18th August 2018 - Sunday 19th August 2018
This unique event held at Headcorn Aerodrome has a variety of vintage and modern aircraft displays, on the ground and in the air. A family event which includes static military vehicles, living history re-enactment groups, arena events, military stalls, children's entertainment and food stalls to make this a perfect day out.
Family ticket is 2 x adults and 2 x children
Camping is only available for the Weekend option only
Online booking only available up to 12 noon Friday 17th August 2018
Military Personnel with a valid ID card go FREE
IMPS members with a valid card go free
VIP ticket holders will benefit from reserved parking, a private entrance and viewing area. A Hurricane or Spitfire will be in the VIP area, with a pilot available to give an interview. VIPs can walk around the aircraft, take pictures and see a running Merlin engine up close.
Ticket Prices
1 Day
Online
Weekend
Online
1 Day
Gate
Weekend
Gate
Infant

Under 4 Years

FREE
FREE
FREE
FREE
Child

(5 to 14 years)

£7.00
£9.00
£8.00
£12.00
Adult

(15 years to 59 years)

£12.00
£15.00
£15.00
£20.00
OAP

(60 years and over)

£7.00
£9.00
£12.00
£18.00
Family

(2 x adults, 2 x children)

£29.00
£35.00
£34.00
£40.00
VIP


£75.00
£75.00
Camping
£49.00
Aero Legends Airshow
Saturday 15th September 2018
Coming Soon – Details TBC